10/09/15
« Back
RGS PRESS RELEASE
451 McCormick Rd

Coraopolis PA 15108

412-262-4044
www.ruffedgrousesociety.org
October 9, 2015

For Immediate Release
RGS presents researchers with $70,000 to support preservation of Gordon Gullion ruffed grouse research data.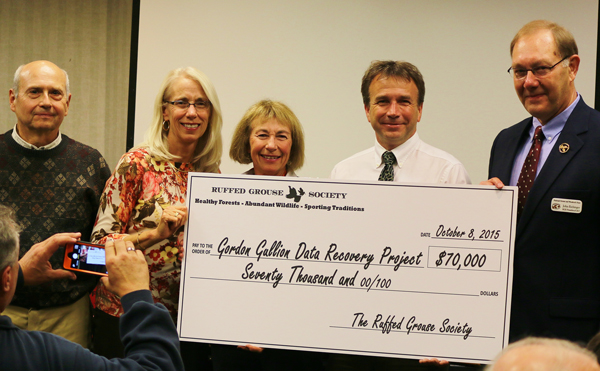 Ruffed Grouse Society members raised $70,000 to support the Gullion Data Recovery Project, an effort to preserve Gordon W. Gullion's ruffed grouse research data, essential information for the future study of ruffed grouse ecology and forest management. RGS President & CEO John Eichinger presented the check to researchers Kent Montgomery, natural resources instructor from Central Lakes College in Brainerd, Minnesota, Frank Svoboda, from Svoboda Ecological Resources of Hutchinson, Minnesota and Gullion's daughters Rebecca Gullion Lindquist and Anne Gullion at the 34th Annual RGS National Grouse and Woodcock Hunt on Thursday October 8, 2015.
     Prior to his untimely death in 1991, Gullion was universally recognized as the world's foremost authority on ruffed grouse. Gullion began his landmark study of ruffed grouse ecology and habitat management in 1958 through the University of Minnesota at the Cloquet Forestry Center.

     Throughout his tenure, Gullion amassed over 69,000 individual records on hard-copy data forms, irreplaceable records documenting ruffed grouse habitat use, food habits, reproductive success and mortality factors, that when used in concert provide an assessment of ruffed grouse ecology that is the very foundation of ruffed grouse habitat and population management. Unfortunately, the hard-copy data forms have deteriorated to the point that if not soon converted through permanent digital preservation, the information could be lost forever.

     "RGS appreciates the opportunity to support this recovery effort, to help preserve an important chapter in the history of upland wildlife conservation," said RGS President & CEO John Eichinger. "A sincere thanks is necessary for the RGS members who understood and contributed to this once-in-a-lifetime opportunity, as the loss of this data would seriously compromise efforts of today's resource management professionals to gain new insight into ruffed grouse ecology and management."

     Gullion's daughter, Rebecca Gullion Lindquist added her appreciation to the efforts, "It's hard to express how much this truly means . . . that after all these years an effort is finally underway to preserve his work which in turn honors his memory. I clearly recall a conversation I had with my dad shortly after he came to accept his illness was terminal . . . he told me he had been looking forward to the opportunity to 'retire' to his basement office and put time into summarizing his research and hopefully getting it published. He expressed sadness that it now looked like he was not going to be able to do that. This is the next best thing, so thank you!"

     The data recovery will be coordinated by Kent Montgomery, as project leader, and Frank Svoboda, as project manager, at Central Lakes College in Brainerd, Minnesota. Montgomery will serve as the primary academic contact, leading student interns on data entry and analysis tasks. Svoboda's prior experience working directly with Gullion, from 1963 through 1973, will be invaluable to the success of the project. A Legislative-Citizen Commission on Minnesota Resources (LCCMR) grant was submitted by Central Lakes College and Svoboda and approved for $76,000 to begin this project. In addition to digital preservation, the grant will enable the development of software designed to allow the retrieval and analysis of the data. Frank Svoboda said, "Eventually with this data, we hope to complete Gordy's book-length manuscript on ruffed grouse as well as nearly 60 unpublished papers. The data will also be available electronically on the web for anyone interested in ruffed grouse to do their own research."

     The $70,000 from RGS will act as a match to the LCCMR grant and will provide the funding necessary to complete the project, which is scheduled to continue through 2017.
---
Established in 1961, the Ruffed Grouse Society is North America's foremost conservation organization dedicated to preserving our sporting traditions by creating healthy forest habitat for ruffed grouse, American woodcock and other wildlife. RGS works with landowners and government agencies to develop critical habitat utilizing scientific management practices.
Information on RGS, its mission, management projects and membership can be found on the web at: www.ruffedgrousesociety.org.
Media Contact:

Matt Soberg

(218) 232-6227
editor@ruffedgrousesociety.org