By Nancy Anisfield
Originally published in Covers magazine – Spring 2019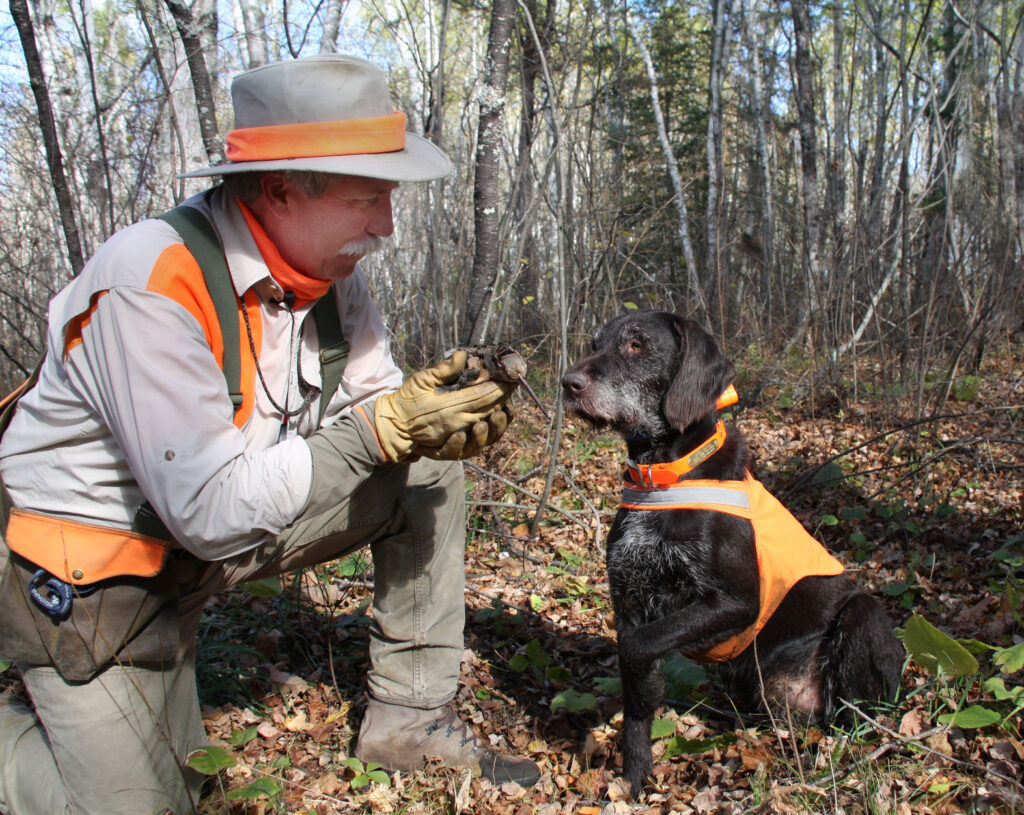 Many of us have been seduced by the convenience of cell phones and pocket-sized digital cameras. Unfortunately, we take our smart phone cameras for granted and as a result, we snap away without careful thought. We end up with a few blurry shots of a dog's head, lots of empty skies, a skanky grouse hanging off a post or a grainy indoor photo too dark to see who's who. We also forget to ask if a picture will pay tribute to the real spirit of the moment. It can be hard to develop an image that tells its own story.
Here are some tips to improve the quality and composition of the photos that capture our special moments.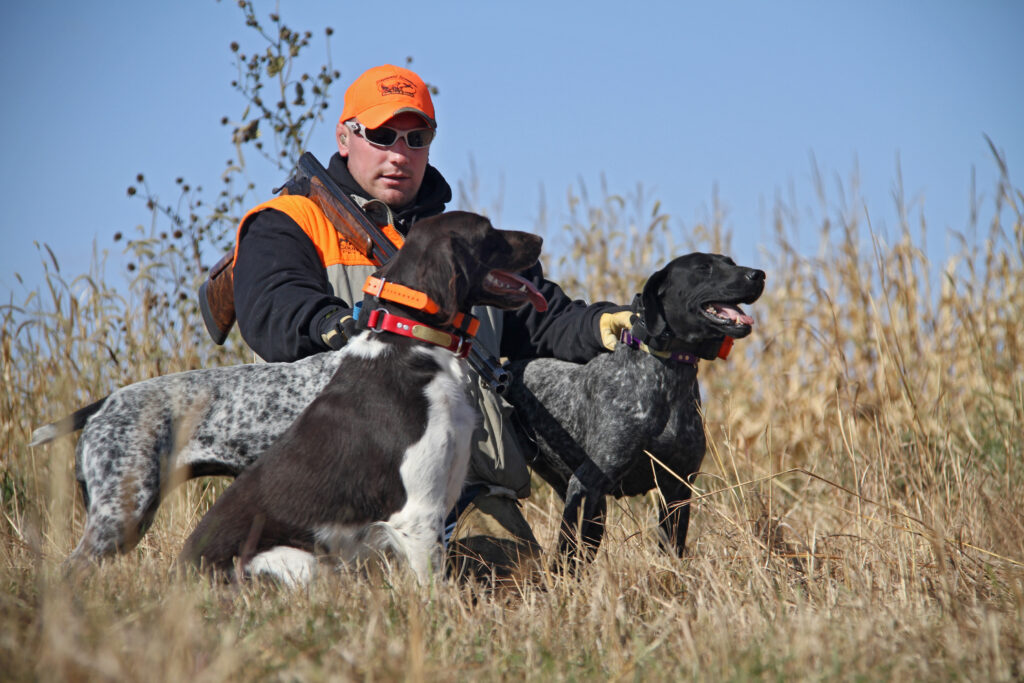 Get Ready
Position. Don't always shoot the middle ground. Try some close-ups to reveal details, such as a few feathers stuck on your dog's jowls. Walk away and set the scene with the landscape around hunters or maybe change the height of your camera. Get on your knees and shoot upward, making those kids posing after the youth hunt look a little taller than usual. Climb a side table and shoot the line-up of award winners from an elevated angle that gives the shot more eye-catching depth of field.
Dogs. When you're taking photos of dogs, put yourself on their eye level. Sit or kneel, so your photo of ol' Ruger will be straight on. Remember that his expression comes from his eyes, ears, tail and motion. That's where your focus should be.
Odd numbers and thirds. Composition with odd numbers of subjects is more visually interesting than groups of two or four. Similarly, varied sizes and positions are more exciting than placing your subjects in an even row. Also, consider the "rule of thirds." If you were to draw lines dividing a picture into nine sections, three lines down and three across, the intersections of those lines are where a viewer's eyes are most naturally drawn. Put your subjects there.
Important details. Think about what you are trying to capture. Is it your young pup's first woodcock proudly retrieved? Toss it and get the shot of her trotting back to you. Was the hunt memorable because of the thick frost and crystalline early morning air? Be sure to show the cover and weather. You can pick the clues that will say more than merely recording "who" and "what." The "how" and "why" are just as important.
Respect and safety. Don't forget other messages your photo sends. Are the guns safely positioned? Are the birds clean of blood and debris with their feathers smoothed? Game and guns should be shown being handled with respect.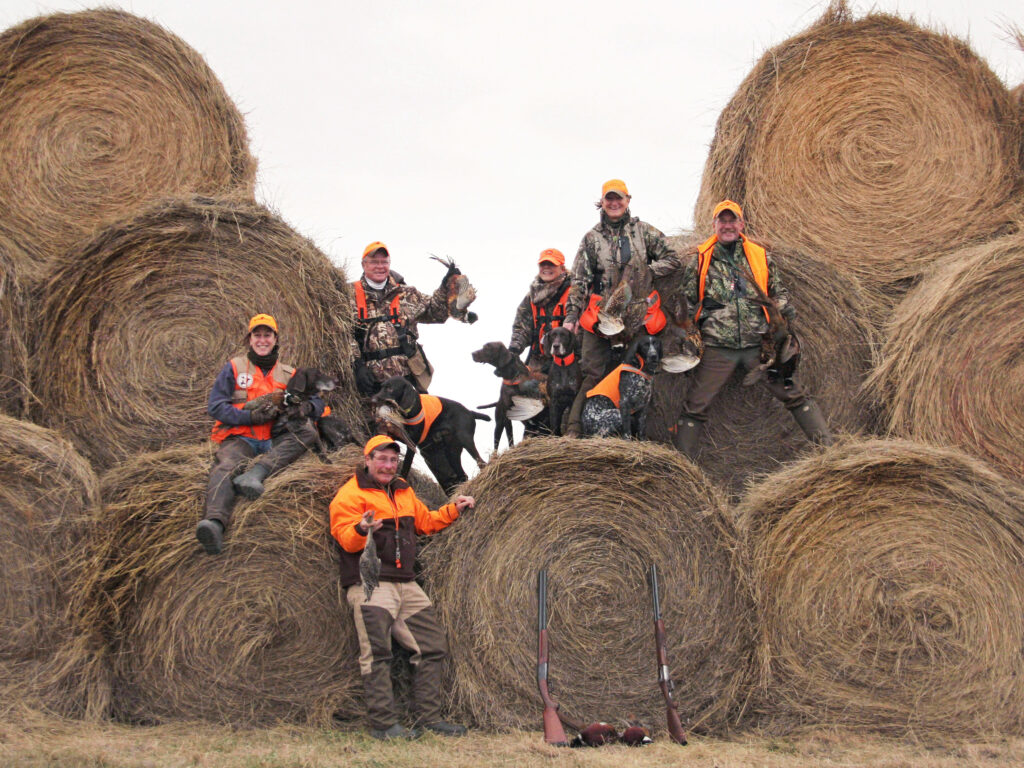 Get Set
Resolution. A standard cell phone photo set to 300 pixels-per-inch (the minimum resolution generally required for magazine printing) results in a photo only 1.6 inches by 2 inches. Enlarged for print, it would be grainy and blurry. For the best resolution from a compact camera, use the largest JPEG file size in the camera's menu of settings. If you're taking the photo with a cell phone or tablet, be sure to transfer the image in the largest size option. You'll need a large file for it to be sharp.
Zooming. Avoid using digital zoom – it doesn't really zoom; it crops the photo and fills in what it thinks needs to be there. That, too, ends up blotchy and grainy. Standard advice if you don't have a camera with a manual zoom is to zoom with your feet – walk in closer rather than relying on digital zoom.
Flash. Natural light is always best. If you have to take the photos indoors and use a flash, take it slightly angled to avoid red-eye or blinking. If possible, stay away from fluorescent lights. Another option is to use an external "bounce" flash that will bounce the light off the ceiling or walls and create a softer look.
Autofocus and speed. With a compact camera, use the AUTO and continuous or motion setting. Many fancy modes – portrait, background blur, preset scenes – will interfere with the focusing system. Continuous, also called "burst," takes a series of images while holding the shutter down. How fast it cycles depends on the camera. For motion shots, some will be blurry, but the series most likely will give you one or two sharp ones. For groups of people, the series option will let you pick which one has the highest number of non-squinting eyes and good smiles.
Get the Picture!
Finally, don't underestimate the value of candid shots! Stroll around the late-day tailgate party. Watch for the cheers, smiles and hugs. Memories captured in unplanned moments may turn out to be the most prized.