by Jennifer Wenner
As the morning sun rose, dew melted off the tree branches' tips and the dog's bell rang in the distance as she ran through the brush. My first bird hunt – it was fall 2013, and I remember it so perfectly. I remember questioning … what had I let my husband talk me into? I didn't grow up hunting, and at the time, I didn't fully understand the importance of conservation. I grew up in a small town in southeastern Wisconsin, fishing with my dad after work, weekend camping trips in Wisconsin Dells and enjoying the great outdoors as much as possible. As I look back on my childhood, hunting seemed to be a male-dominated sport. I had grandparents that deer and bird hunted, but hunting camp was the boys' time, while the women stayed home and took care of the kids. I always wanted to be more involved in the great outdoors, and I'm so thankful my husband and his family introduced me to grouse hunting. That first morning, I learned about grouse and woodcock habitat, how to interpret the dog's behavior and how to quickly take my safety off my shotgun and aim as Sadie flushed them up. That first morning in the field changed it all for me. It's where I grew a newfound love for bird hunting.
I had only shot a gun a few times, and I wasn't that great of a shot – my biggest fear was that I was going to embarrass myself and always miss or, even worse, injure a bird because my aim was off. With a little practice, I turned out to be pretty good with a shotgun. Honestly, I've never felt more empowered than ethically source and provide for our family while maintaining a focus on long-term conservation and habitat management. Rob taught me everything I need to know about grouse hunting, like how to be safe in the field, orientate my direction to not get lost and always be aware of my surroundings – especially aware of the dog and other hunters' positions in the field.
In late 2013, we'd been in discussions about getting our own dog to be the perfect addition to our family. After doing a lot of research and debating on what breed we would get, we found a fantastic German shorthaired pointer breeder in Virginia, about five hours from where we were living at the time. We knew we wanted a bird dog to continue on the traditions and legacy of hunting with our future kids and family someday. In June 2014, we picked up our puppy Remy. She's a perfect hunting dog when outdoors and the best snuggler with the family when indoors. Little did she know, she wouldn't be the baby of the family forever!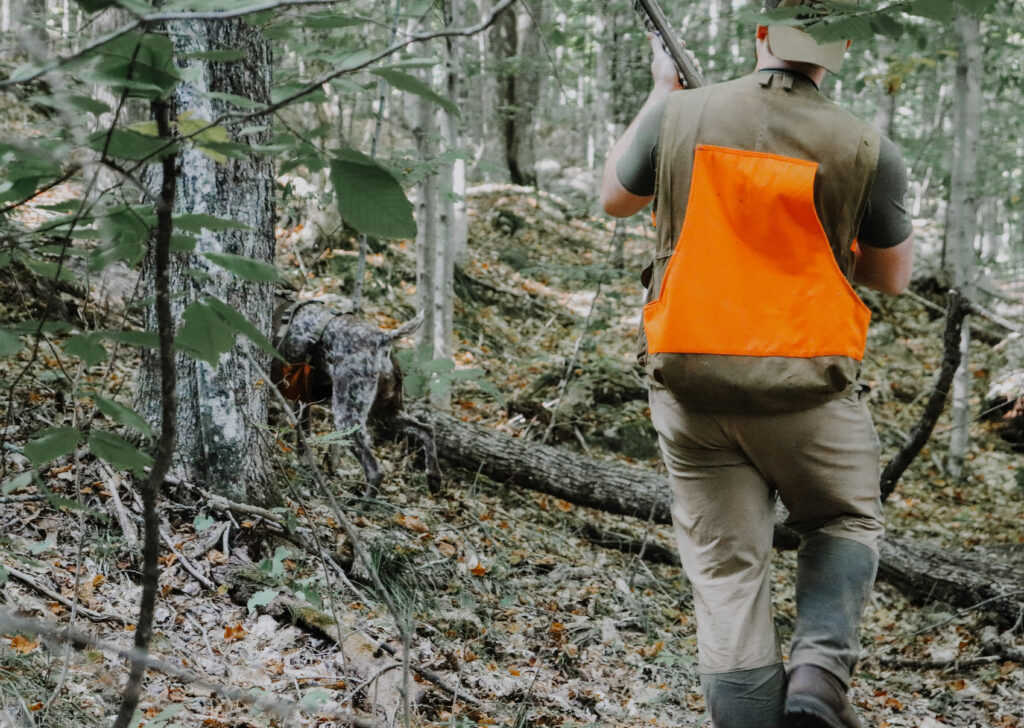 Rob and I had a lot of fun through the years, traveling, camping, hiking and hunting. We always knew we wanted to have kids someday, and in 2016, we got pregnant with our first child Wyatt. The outdoors has always been a huge part of our relationship; not only did Rob introduce me to hunting, but he also shared his passions of skiing and mountain biking. We always said, "When we have kids, they'll just adapt to our lifestyle," and I'm so thankful to say, having Wyatt only grew our love of the outdoors more. Wyatt was three months old when he made his first debut to the family cabin in the Northwoods of Wisconsin – he's loved the outdoors ever since!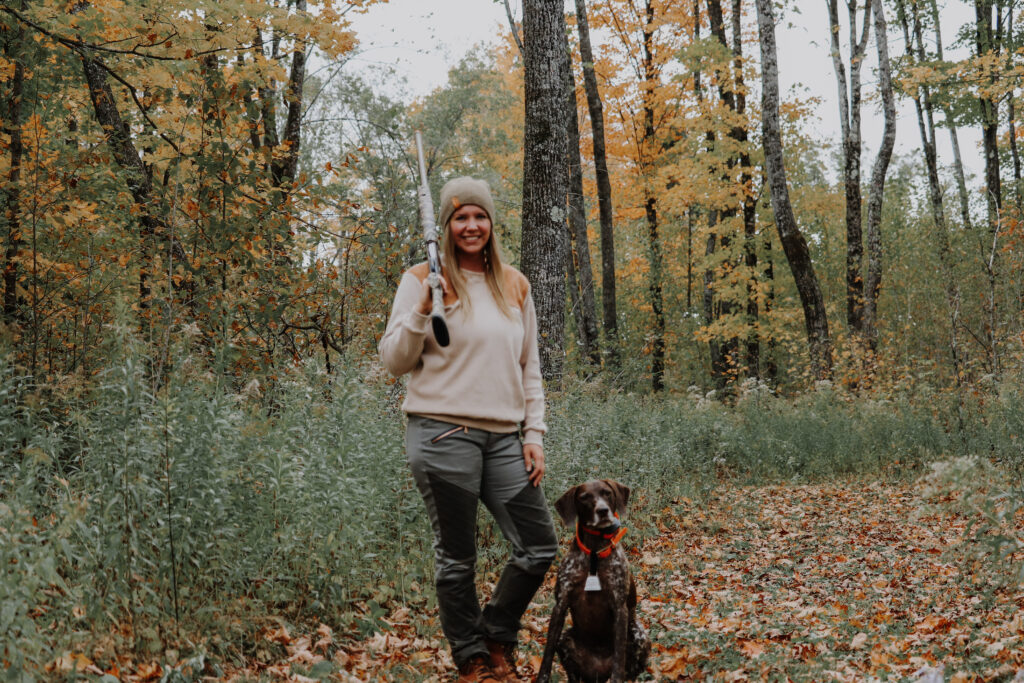 Rob's family has had a cabin in northern Wisconsin for more than 50 years. The entire Wenner family of men learned to hunt there, and some day, Wyatt will learn to hunt there, too. The public land near the cabin is part of the Nicolet National Forest, home to many grouse and woodcock in the fall. When Rob's grandfather passed away a few years ago, his dad purchased the cabin and kept it in the family. Bird hunting is ingrained in our family's fall traditions, and I'm so thankful we were able to introduce Wyatt to the outdoors this year.
Grandpa Paul absolutely loves taking Wyatt on walks through the woods. This fall, Wyatt came out on a few hikes, helping us set up the deer blinds. He ran through the forest, picking up sticks, acorns and pinecones. He even grabbed a bunch of tree branches and helped put them on the ground blinds with grandpa. Naps are also a must in the outdoors – I mean, who wouldn't need a rest after eating snacks getting carried through the forests – fresh air takes a lot out of you. Along the way from stand to stand, the dogs kicked up a few grouse and woodcock that we shot and showed to Wyatt. We later smoked them on our Traeger grill and let him try some – he absolutely loved it! Although he's still too young to understand the farm-to-table model, he will someday understand why we love to bird hunt, the importance of conservation and how it provides ethically-sourced food on the table for our family. Wyatt lives for the outdoors. Whether it's hiking, helping set up deer blinds, or chasing his Remy around the backyard, he loves to be outside and watch the birds fly through the forest, and the squirrels tease Remy. If Wyatt could talk, he would probably say that his two favorite beings would be Remy and Sadie, the two adorable bird dogs of the family. It's vital for us as a family, but most importantly, for me as a mom, to see my son grow up in the outdoors and learning the importance of hunting and conservation. I didn't grow up hunting, but I will undoubtedly make sure Wyatt gains those experiences I missed. I want him to learn about bird hunting from his grandfather and dad, but also from me. I'm beyond passionate about animals, the outdoors and preserving our environment for the long term. I hope when he's a little older, he'll be able to vocalize what he wants to learn more about, and we hope that it's about bird hunting with our family!