by Tom Keer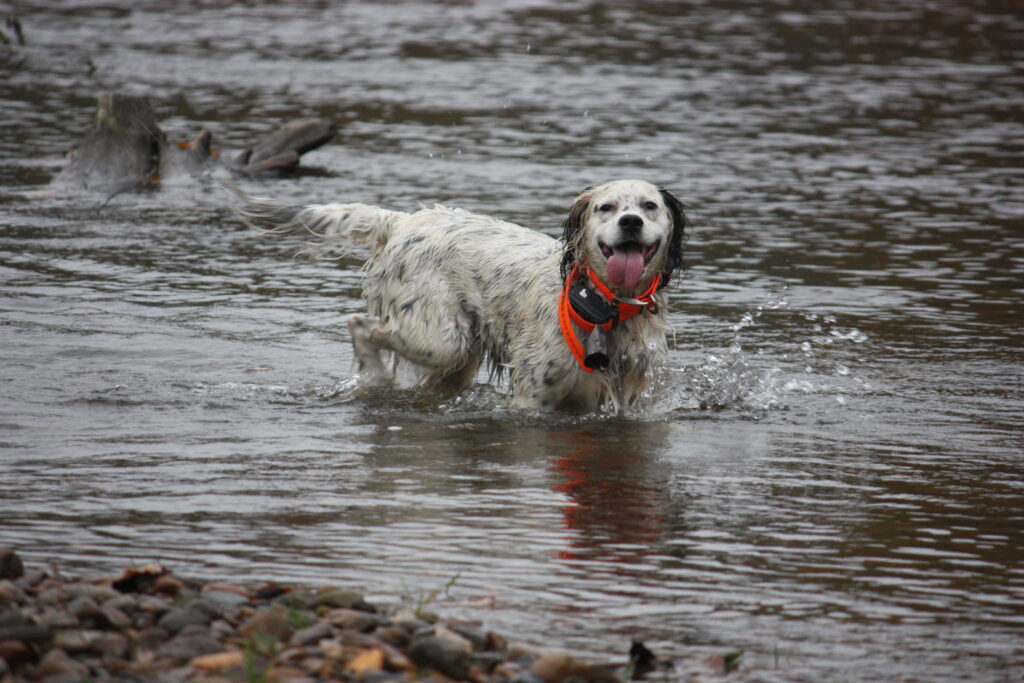 Summer is a difficult time to get a string of gun dogs ready for the upcoming grouse and woodcock seasons. Hot and humid temperatures combined with sunny, windless days make for tough pre-season training. If we want to build our gun dogs' foundations so we're ready to roll on opening day, then we've got to run our dogs during this hottest, most humid time of the year. Avoiding heat-related illness (HRI) is key.
What is Heat-Related Illness?
HRI occurs when the dog's core body temperature rises faster than he can cool off. Dogs can experience one of two types of HRI: non-exertional and exertional. Non-exertional HRI is what we often read about in mainstream media – a dog is left in a car on a hot day with minimal ventilation. Exertional HRI is exercise-induced and can come from vigorous exercise like roading or running. In both instances, the dog's body generates more heat than he can dissipate.
How Dogs Cool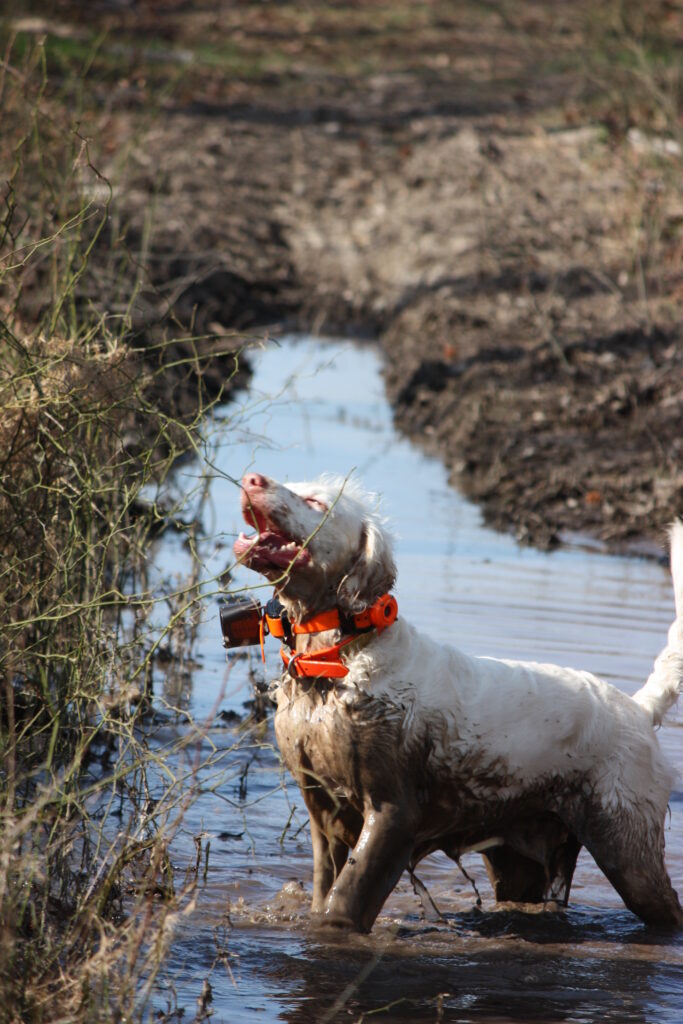 Dr. Michael Davis leads the Comparative Exercise Physiology Laboratory at Oklahoma State University and is one of the nation's leading experts on the physiological impacts of exercise, including heat stress. According to Dr. Davis, HRI occurs when a dog generates more internal heat that it releases. "Animals generate heat in their tissues as a function of metabolism of roughly 5 kilocalories per liter of oxygen burned. The faster and harder the tissues are working, the higher the rate of heat generation." That's an important reason many pro trainers head far north to work their strings before the fall. Dogs can run harder and longer when it's cool.
Russ Kelley, Eukanuba's Scientific Services Nutritionist and an avid grouse hunter, says dogs cool in a variety of ways. "The majority of a dog's internal heat is dissipated through his skin," Kelley said. "In fact, 70% of a dog's heat is released that way. As the dog's body temperature increases, the blood vessels in the skin dilate, which increases blood flow to the skin. From there, heat dissipates into the air. One reason dogs have a difficult time cooling down in the summer is that the outside temperature is close to the dog's internal temperature. That similarity makes for inefficient cooling, and dogs can overheat. All handlers know that working gun dogs create a lot of internal heat.
"The dog's core body temperature is a range, and normal is between 101 and 102.5 degrees Fahrenheit. When a dog's core body temperature is raised to 104F, they may present signs of HRI. Some dogs may reach that 104-degree temperature faster than others. An English pointer's thin skin and coat dissipate heat much faster and more easily than a black Labrador retriever with a thick skin and double coat. My setters fall somewhere in between, but my older dog has a more difficult time cooling down than my younger dogs. Sedentary dogs called to work are prone to overheating – but younger dogs can overheat, too. Those younger dogs haven't quite figured out their pace and tend to run hard when they're cut loose."
If you're concerned with your dog's core body temperature, take a simple reading with a rectal thermometer.
One important point to note is an increase in the dog's core body temperature isn't the same as a fever. A fever is caused by the body's reaction to an infection or another disease. In the example of HRI, the increase in the dog's core body temperature comes through an increase in activity combined with the dog's inability to cool down.
The Three Stages of HRI
If a working dog can't cool down, he's likely to suffer from one of the three stages of HRI: heat stress, heat exhaustion and heatstroke. Here's a chart that illustrates how each of these phases presents.
HOW TO IDENTIFY HRI SIGNS IN DOGS
| | | |
| --- | --- | --- |
| 1st stage – Heat Stress Clinical Signs | 2nd stage – Heat Exhaustion Clinical Signs | 3rd stage – Heatstroke Clinical Signs |
| Less animated behaviorVisibly tired or moving at a slower paceChanges in the dog's focus or readinessChange in attitude (i.e., seems apprehensive)Excessive pantingPasty saliva in the mouthIncreased thirstFeels overly warm to the touchTongue protruding excessively or with a flattened endCheeks pulled back revealing the full arcade of the teeth, including the molarsBrick-red mucus membranesHeat cramps or muscle spasms | Any of the signs from the 1st stage, plus additional potential signs: Weakness or stumblingMentally aware but too tired to reactExcessive panting becomes uncontrollableSignificant thirstSunken, dry eyesDry mouth, gums and noseVomiting or diarrheaLack of skin elasticityMuscle tremors | Any of the signs from the 1st and 2nd stages, plus additional potential signs: Significant slowness or lack of coordinationWeakness in the hind endWobbly and unsteady gaitUnresponsive or confusedIncessant or noisy pantingDark urine or lack of urineSeizuresHead tremorsShockCollapseComa |
HRI TREATMENT
Correctly diagnosing HRI is critically important. Consulting a veterinarian is always a good idea. But if you're training in the woods and your dog starts to suffer, you'll need to take immediate action. Here are a few steps to help cool down your dog until you can reach professional help.
Stage 1 – Heat Stress – Actions to TakeTake a break from the activity at hand. Sit in a shady area with a cool breeze and provide your dog with lots of water.Apply cool water to paw pads and underbelly, both of which help reduce core body temperature. Rinse out the dog's mouth to remove the pasty saliva from gums and tongue. Since pasty saliva can be an early sign of heat stress, check the dog's temperature. If the temperature is slightly elevated, consider rubbing alcohol-soaked pads on the pinnae of the ears, in the armpits and in the groin area. The alcohol placed in these areas will help cool the surface blood immediately.Don't start working the dog until its is fully recovered – but even then, it might be best to rest the dog until the next day.Consult your vet for additional instructions.
Stage 2 – Heat Exhaustion – Actions to Take
Get your dog to the nearest vet immediately.
Before heading to the vet, place a cool, wet towel on the bottom of its kennel.
Be sure to use a crate large enough for the dog to lie on its side. It's important that the dog stretches out so there is maximum heat dissipation.
Apply cool water to paw pads and underbelly.
Rub alcohol-soaked pads on the pinnae of the ears, armpits and groin area.
If you have a fan on the cage door, turn it on.
Absolutely don't put the dog in extremely cold water, and never put ice on the dog's skin. That extreme cold causes surface blood vessels to shrink and increases the risk of both dehydration and heatstroke.
Stage 3 – Heat Stroke – Actions to Take
Get your dog to the nearest vet immediately.
Follow the aforementioned actions from Stage 2 before you begin your drive to the nearest vet.
Drinks are on the House
Dehydration is one of the greatest health challenges for dogs involved in performance activities. A 2005 summary of working dogs stated that while dogs can recover from the loss of most of their fat and half of their muscle, a loss of more than 10% of a dog's body water stores can result in death. A dog's body is comprised of about 70% water, and maintaining that level ensures health. It's especially important when you're working dogs in warm or humid temperatures, particularly because dogs usually don't say they need a drink. Proactively take regular water breaks to maintain proper hydration levels.
Though they can't talk, dogs do provide clues that tell handlers they're dehydrated. Dehydration is something we want to avoid, so when it's hot, try shortening sessions, reducing intensity, working during the cooler times of the day and giving your dog plenty of water. A 44-pound dog will consume anywhere between ½ and 1½ gallons per day. Heavier dogs drink more. The table below shows the three stages of dehydration.
Signs of Dehydration in dogs
Initial Signs
Secondary Signs
Severe Signs
Less animated
Visibly slowing at work
Weakness in the hind end
Visibly tired or slower pace
Sunken, dry eyes
Wobbly and unsteady
Excessive panting
Dry mouth, gums and nose
Dark urine or lack of urine
Overly warm
Lack of skin elasticity
Unresponsive
Change in attitude
Seizures
Shock
Creative Workarounds
Plan your work, then work your plan, so here are some tips to help your dog avoid HRI.
Fit vs. fat. If your dog's packed on some off-season pounds, you'll do well to shed the weight before you start training. Weigh, compare profile with a body condition score and get recommendations from your vet. Evaluate food and portions and adjust so that he/she trims down before going to work.
Greet the Heat. If your dog lives in an outdoor kennel, its used to the gradual temperature change from spring to summer. Indoor dogs used to an air-conditioned life should be taken outside daily. Regular walks, short runs or run/swim combinations are good ways to acclimate them to exercise in the heat.
The 140 Rule of Thumb. To get a sense of whether it's too hot to run, simply add your air temperature to your humidity percentage. If the total score's over 140, then think carefully about how hard you push your pup. If it's too hot for predawn roading, do some light finish or bench work. Put out three to four birds in a smaller area and work the dog in 15- to 20-minute intervals. That way you'll maximize the training effort while minimizing its impact on the dog. Set training quail on a field edge, or fly pigeons with a dog on a bench. A few contacts done on a regular basis is a great way to sharpen up your string.
Hit the road. When roading dogs, start slowly and build up. A 15-minute run at 5 to 7 miles per hour gets dogs used to work. As they build their muscular condition and their VO2 max (how much oxygen a body can absorb and use during exercise), you'll see them pulling on the harness. Increase your run time to 20 minutes at a pace of 8 or 9 miles per hour. Increase accordingly to match your hunting demands.
Cover your Covert. Air circulation helps dogs cool, so work them in an area where the air is moving. Thick grasses and dense covers reduce air flow, and dogs can overheat.
Cut water. Working dogs near water makes it easy to get a swim and a drink. But there are two points to remember. First, hot dogs can go into shock if they jump into super-cold water. Cool them down before letting them splash. Second, temperatures in shallow ponds may not be that much cooler than the air temperature. That means that dogs that go for a swim don't necessarily cool down very much.
Load up. Cool down dogs before kenneling them up. Dry them off as well. A dog box with restricted air flow plus a wet dog can create a sauna or steam room type of situation. Make sure all vents are open and that air circulation is good.
Stake 'em out. The best way to work a string of dogs is to stake them out in a shady area with moving air. If you're leaving dogs in a kennel, park your rig in a shady area to keep internal kennel temperatures from rising.
Summer should be fun. Yeah, hot and humid weather makes training difficult, so watch for signs of HRI and dehydration. Take your time training, and remember this: Opening day isn't far away.