12/19/16
« Back
CSF/RGS Joint Press Release
Ruffed Grouse Society

451 McCormick Rd

Coraopolis PA 15108

www.ruffedgrousesociety.org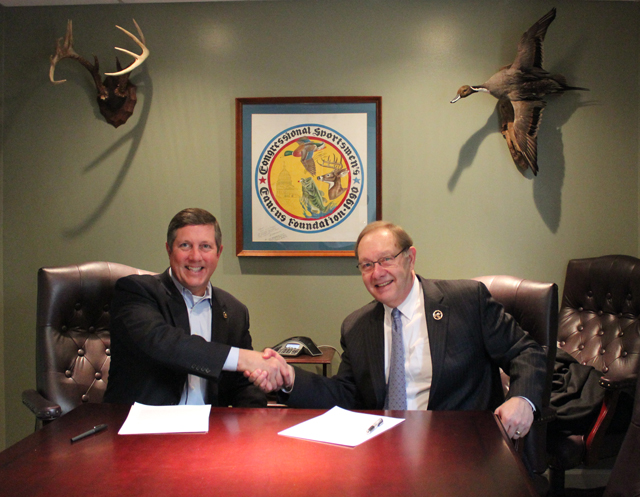 December 19, 2016 (Washington, DC) – The Congressional Sportsmen's Foundation (CSF) and the Ruffed Grouse Society (RGS) signed a Memorandum of Understanding (MOU) for the shared goals of the two organizations to advance science-based wildlife management, wildlife conservation and the sportsmen's heritage.
This partnership will provide an opportunity to combine CSF's legislative knowledge and network of federal and state sportsmen's caucuses with the vast RGS membership of upland hunters to effectively guide policy in a way that encourages the active participation of sportsmen and women in the legislative process.
"We look forward to collaborating with the Ruffed Grouse Society on advancing our common mission of protecting and advancing conservation of grouse, woodcock, and other game and non-game species," said CSF President Jeff Crane. "RGS chapters across the country include volunteers who embrace the hunting tradition and understand the importance of protecting it for future generations."
"We are honored to partner with the Congressional Sportsmen's Foundation, an organization that makes a difference by influencing legislation and policy to benefit wildlife conservation across the nation," said RGS President and CEO John Eichinger. "With a larger and more effective voice, together we will enhance our ability to preserve our sporting traditions by creating healthy forest habitat for game and non-game wildlife species."
CSF and RGS possess unique resources that when combined will advance conservation goals and benefit sportsmen and women at both the state and national levels.
About CSF
Since 1989, the Congressional Sportsmen's Foundation (CSF) has maintained a singleness of purpose that has guided the organization to become the most respected and trusted sportsmen's organization in the political arena. CSF's mission is to work with Congress, governors, and state legislatures to protect and advance hunting, angling, recreational shooting and trapping. The unique and collective force of the Congressional Sportsmen's Caucus (CSC), the Governors Sportsmen's Caucus (GSC) and the National Assembly of Sportsmen's Caucuses (NASC), working closely with CSF, and with the support of major hunting, angling, recreational shooting and trapping organizations, serves as an unprecedented network of pro-sportsmen elected officials that advance the interests of America's hunters and anglers.
About RGS
Established in 1961, The Ruffed Grouse Society is North America's foremost conservation organization dedicated to preserving our sporting traditions by creating healthy forest habitat for ruffed grouse, American woodcock and other wildlife. RGS works with landowners and government agencies to develop critical habitat utilizing scientific management practices. For more information about RGS, go to: www.ruffedgrousesociety.org.
---
Media Contacts:

Congressional Sportsmen's Foundation

Sara Leonard
sara@sportsmenslink.org

202-543-6850 x11
Ruffed Grouse Society

Matt Soberg
editor@ruffedgrousesociety.org

218-232-6227