By Tripp Way | RGS & AWS Director of Regional Development – Mid Atlantic
Few people can say they've been a part of the grouse community for a decade, let alone three, going on four. Dedication that significant is worthy of praise. Such is the case with veteran conservationist Carole Dyer whose passion and commitment has stewarded countless future outdoorsmen and woman, raised hundreds of thousands of dollars and impacted the great state of Maine – significantly.
At 83 years old, Carole is the model of vigor and liveliness. But this get-up-and-go started many moons ago. In 1982 Carole and her late husband Russ, a retired Colonel in the Maine Warden Service, started the Burton L. Spiller Chapter. Other ardent grousers were there, too, many of them synonymous with Maine's deep and rich sporting heritage. This team of wildlife heavyweights built a tradition that stood the test of time – an RGS Chapter that turns 40 this year.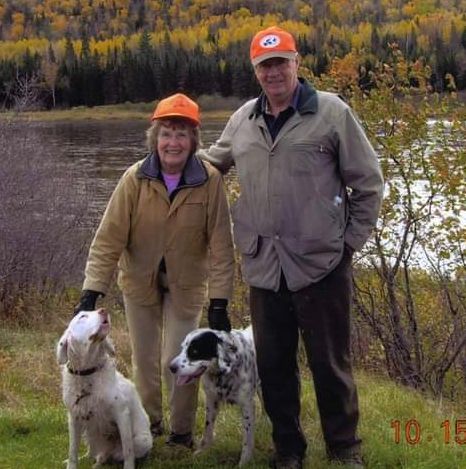 In the words of RGS President and CEO Dr. Ben Jones, "There are certain people who are always there for you. That friend you can call or who shows up at a time of need. Carole's been that friend to RGS and forest wildlife for more than 30 years. She's been an ambassador, a sponsor and a recruiter. We so appreciate Carole and long-time members like her – they're the backbone of RGS & AWS!"
Dutifully, Carole and Russ served as Chapter President, Prize Chair and Habitat Chair. These key roles are imperative to raising funds that directly impact the Society's mission. And, over Carole's tenure, the projects piled up, including habitat work notably at Frye Mountain, Fogg Farm and the Downeast Lakes Land Trust, as well as seed money for important research work like the Woodcock Migration Study and the Grouse Research Project in conjunction with UMaine. Not to mention the time spent working with the state of Maine to advocate for young forests.
Carole's volunteer roots span far past RGS. In 2017 Carole was honored with the Lifetime Outdoor Achievement Award by the Maine Department of Inland Fisheries and Wildlife. The award, one of the Department's highest honors, celebrates a lifetime of achievement and mentoring in Maine's outdoors. For years, she has volunteered as an instructor at Becoming an Outdoors Woman and served on boards for the Land for Maine's Future, The Forest Society of Maine and Durham Rod and Gun Club. In 2016 Carole's and Russ's legacy was permanently preserved by renaming the RGS Chapter in their honor as the Russ and Carole Dyer Chapter.
"There are so many people who've made a difference in Maine. I'm only one volunteer of many talented individuals. It's because of them that our Chapter has been so successful," said Carole. She continued, "The comradery, family and dogs are important, but the resource is important too." This humble insight has made Carole a formidable force in the conservation community.
Today, Carole hunts with her handsome setter "Ruff," who was given to her as a gift by her Chapter peers in 2012. It's not uncommon for Carole to have four generations of family hunters surrounding her in the fall, including her three sons, who've all supported RGS and Maine's sporting tradition throughout the years.
As if a lifetime of volunteerism wasn't enough, Carole passed the torch to her granddaughter, Amanda, who has taken the reigns of the Chapter, ensuring RGS & AWS are represented in the Pine Tree State. "I have great memories training bird dogs with Gram. These times are so important to me," said Amanda, "I am honored to continue my grandmother's legacy." A legacy Amanda takes seriously with her husband, two daughters and three German shorthair pointers.
We're thankful for Carole and Russ' foresight, leadership and steadfast support of the RGS & AWS mission during the last 40 years. As well as the countless supporters, donors, leaders and volunteers who've helped make it possible.