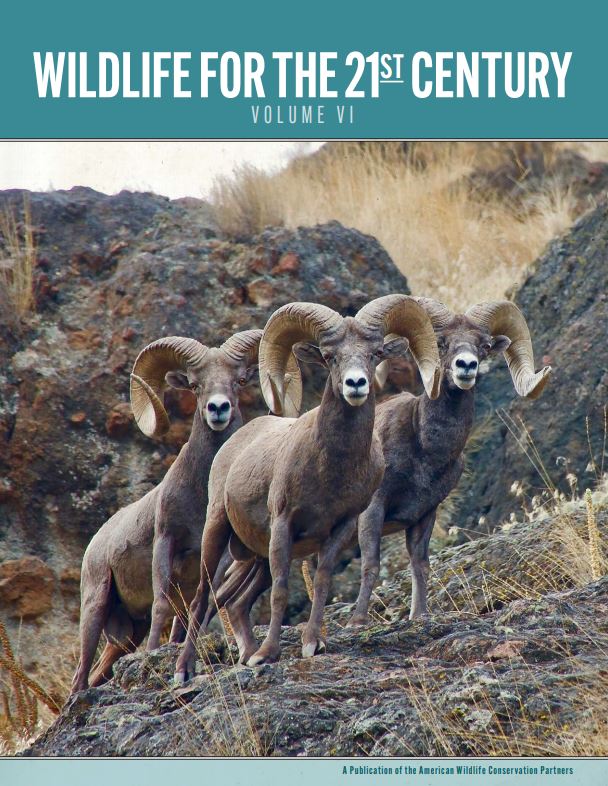 July 15, 2020
For Immediate Release
Coraopolis, Pa. – The nation's top 50 hunting conservation organizations today released their policy recommendations for the next White House Administration and the next two Congresses. The groups that participate in the American Wildlife Conservation Partners (AWCP) developed Wildlife for the 21st Century: Volume VI to provide specific actions that could be taken to improve wildlife conservation and management. The 10 recommendations made by the AWCP focus on conservation funding, access and management of federal lands, habitat conservation in a changing climate, integrating wildlife goals into energy planning, private land and species conservation, wildlife disease management, and big game migration corridors. All of the recommendations encourage collaboration and cooperation between federal agencies, state fish and wildlife agencies, and private landowners.
The Ruffed Grouse Society was among 35 leading conservation organizations that united to form AWCP two decades ago. The coalition has continued to grow in size and influence, and has carefully compiled and presented their recommendations for every presidential administration since 2000.
"This sixth edition of Wildlife for the 21st Century presents achievable actions on the top policy priorities identified by the AWCP consortium," noted Ben Jones, President and CEO of the Ruffed Grouse Society and American Woodcock Society. "We will provide the Trump and Biden campaigns, as well as the incoming members of Congress, with these recommended actions for their consideration and integration into their conservation platform."
The specific recommendations made by the AWCP are featured in 10 distinct sections of the report. Each recommendation also includes detailed descriptions of the issues, action items to address the issues, and identifies the appropriate body for implementation, including specific agencies within the administration and/or Congress. The full document is available here: Wildlife for the 21st Century – Volume 6.
Recommendation 1: Funding for Conservation – Secure permanent and dedicated conservation funding from public and private sources.
Recommendation 2: Federal Land Access – Enhance access for hunters and outdoor recreationists.
Recommendation 3: Big Game Migrations – Require collaboration on big game migration corridors and habitats.
Recommendation 4: Energy Development – Integrate industry, state, and federal wildlife goals early in energy planning.
Recommendation 5: Private Land Conservation – Incentivize private landowners to conserve wildlife and habitat and provide access for hunting.
Recommendation 6: Active Management of Federal Lands – Increase active management of federal land habitats and reduce litigation through collaboration.
Recommendation 7: Species Conservation – Achieve greater results from an improved ESA program.
Recommendation 8: Big Game Diseases – Support and assist states in addressing Chronic Wasting Disease and wild sheep pneumonia.
Recommendation 9: Climate Change – Focus climate policy on habitat conservation and restoration.
Recommendation 10: Hunting Heritage and the Future – Require collaboration for wildlife conservation, hunting, and recreational shooting on federal lands.
AWCP represents the interests of America's millions of dedicated hunter conservationists, professional wildlife and natural resource managers, outdoor recreation users, conservation educators, and wildlife scientists. Adoption of the AWCP recommendations found in Wildlife for the 21st Century: Volume VI will improve federal agencies' stewardship of our nation's fish, wildlife, and habitats and enhance access to federal lands and waters for outdoor and wildlife-associated recreation, which contribute significantly to the quality of life and economic well-being of our citizens and future generations.
"State and federal agencies must work cooperatively to meet the needs of our wildlife and our communities – this is not a nicety, it's a necessity," wrote AWCP chairs the Rocky Mountain Elk Foundation's Blake Henning (2020 chair) and the Association of Fish and Wildlife Agencies' Jennifer Mock Schaeffer (2019 chair) in the introduction to the report. "These recommendations represent a general agreement of the partners; we urge your consideration and adoption of these recommendations and look forward to working with you to create or reaffirm these federal administrative policies."
About the Ruffed Grouse Society and American Woodcock Society
Founded in 1961, the Ruffed Grouse Society is a leading proponent of science-based forest and wildlife management. Together with the American Woodcock Society (founded in 2014), RGS & AWS unites conservationists to improve wildlife habitat and forest health. Information on RGS & AWS, its mission, management projects and membership can be found on the web at: www.ruffedgrousesociety.org.
###
Contact:
Brent Rudolph
RGS & AWS Chief Conservation and Legislative Officer
BrentR@RuffedGrouseSociety.org