Pennsylvania's estimated 134,000 upland bird hunters, along with thousands of others who prefer hunting this magnificent game bird with camera and binoculars, have a unique opportunity to turn a sizable portion of their vehicle registration fee into the restoration of habitat by being a member of the Ruffed Grouse Society (RGS) and ordering a specially-designed Pennsylvania Ruffed Grouse Society License Plate.
You have two options: A sequentially-numbered plate is available for a one-time fee of $60 or a personalized plate is available for $160. Future annual vehicle registration renewal is at normal fees. Each RGS license plate option provides $29 to RGS – money that will help restore and protect grouse and woodcock habitat, providing them with food, cover from predators, shelter and a place to breed and rear their young. For each option, $6 will be sent to the Pennsylvania Correctional Industries for shipping, and the remaining registration funds go to the Pennsylvania Department of Transportation.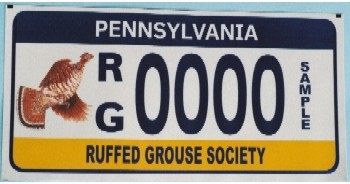 The specialty plates make a unique and lasting Christmas gift and are a good way for sportsmen and other conservation-minded people to show other motorists that they care about conservation efforts and are helping in every way they can. This partnership between RGS and the State of Pennsylvania benefits ruffed grouse, American woodcock, the more than 80 species of songbirds, and other species and also provides additional funding to the State.
The RGS License Plate application and instructions can be downloaded at www.ruffedgrousesociety.org/wp-content/uploads/2019/02/PA_Plate_App.pdf. Checks should be made payable and mailed along with the completed application to:
Ruffed Grouse Society

451 McCormick Rd

Coraopolis PA 15108
For more information contact RGS at 1-888-564-6747, or by e-mail at: PALP@ruffedgrousesociety.org.