02/29/16
« Back
RGS PRESS RELEASE
451 McCormick Rd

Coraopolis PA 15108

412-262-4044
For Immediate Release

February 29, 2016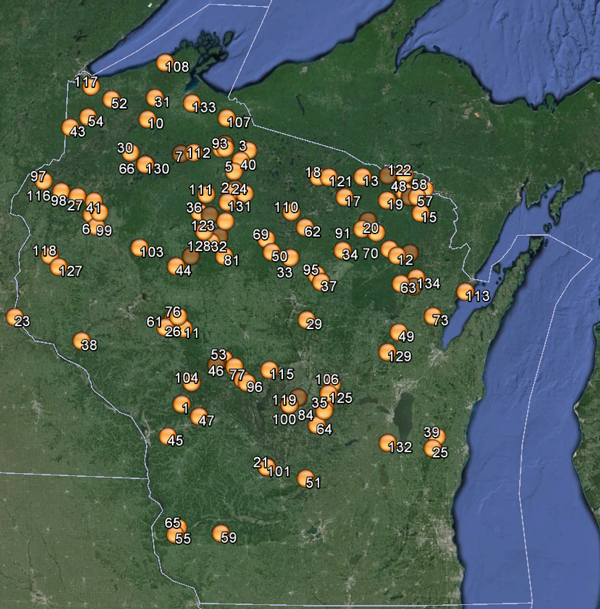 Habitat projects supported by RGS/AWS in Wisconsin prior to 2016
Coraopolis, PA – Ruffed grouse, American woodcock, golden-winged warblers and numerous other wildlife species require regenerating forest stands that develop following timber harvests and other forest management activities. The Ruffed Grouse Society (RGS) and its sister organization, the American Woodcock Society (AWS), are pleased to provide $80,340 through the Wisconsin Drummer Fund to 15 outstanding projects in Wisconsin that will enhance habitat for young forest wildlife and increase hunter access to prime hunting areas. Partners will bring an additional $130,000 to complete these projects, resulting in over $210,000 in forest habitat improvements during 2016.
Over 880 acres will be directly enhanced; funds used to support expanded landowner outreach efforts and forest access road improvements will indirectly support habitat improvements on thousands of additional acres. Over 45 miles of hunter walking trails will also be created or enhanced with these funds. To accomplish these projects, RGS/AWS will partner with the United States Forest Service, Wisconsin Department of Natural Resources, Class ACT Charter School in Park Falls, Price, Ashland and Bayfield counties and Golden Sands Resource Conservation and Development Council.
The Wisconsin Drummer Fund was initiated in 2010 to allow RGS/AWS to funnel funds raised at chapter events and through direct member donations to proactive forest conservation work in the state. Since then, over $376,000 has been made available to support 85 Wisconsin young forest-related projects enhancing an estimated 8,704 acres of habitat and improving hundreds of miles of hunter walking trails. These funds have been matched by other agencies and organizations resulting in over $1 million worth of projects being funded in Wisconsin since 2010. This year marks the sixth straight year for record funding levels under this program.
"Our increasing support for forest conservation work in Wisconsin stems directly from the dedication and investment of our members, who clearly understand the challenges faced by forest wildlife and the need for appropriate management," said John Eichinger, RGS/AWS president and CEO. "The Wisconsin Drummer Fund allows RGS/AWS to directly apply our mission of supporting healthy forests, abundant wildlife and sporting traditions to boots-on-the-ground conservation work that enhances both our forested landscapes and the public's ability to enjoy them."
Wisconsin Drummer Fund Projects approved for 2016 include (project title/county location and partners):
Wisconsin Young Forest Partnership/21 northern Wisconsin counties – 13 partner organizations
MPF Wildlife Openings and Hunter Walking Trails/Taylor & Price counties – U.S. Forest Service
White River Wildlife Area Aspen and Alder Regeneration/Ashland County/Ashland County – Wisconsin DNR
Trott Hunter Walking Trail Rehabilitation/Ashland County – Ashland County Forest & Recreation Department
Ruffed Grouse Habitat Management and Enhancement/Forest County – U.S. Forest Service
C.D. Besadny Fish & Wildlife Area Grouse & Woodcock Habitat/Kewaunee County – Wisconsin DNR
Marathon County Alder Regeneration/Marathon County – Wisconsin DNR & Marathon County Department of Parks, Recreation & Forestry
School Forest Ruffed Grouse Project/Ashland County – Class ACT Charter School and Ashland County Forest & Recreation Department
Woodboro Lakes Wildlife Area Trail Enhancement/Oneida County – Wisconsin DNR
Black River Country Forest Opening Management/Jackson County – Wisconsin DNR
Borst Valley Wildlife Area Wildlife Shrub and Alder Regeneration/Trempealeau County – Wisconsin DNR
Mud Lake Wildlife Area Grouse and Woodcock Habitat/Door County – Wisconsin DNR
Price County Forestry Aspen Age-Class Breakup/Price County – Price County Forestry Department
Central Wisconsin Demonstration Forest Project/Green Lake, Outagamie, Portage, Taylor, and Wood counties – Golden Sands Resource Conservation & Development Council
Bayfield County Buckthorn Removal/Bayfield County – Bayfield County Forestry & Parks Department
Drummer Funds are used by project coordinators to directly address forest management goals and enhance diversity. Todd Naas, Wisconsin DNR biologist in Ashland County, suggests that Drummer Funds will be instrumental in achieving forest management goals in Ashland County. "Drummer Funds will be used to initiate a long-term plan to reduce stand size and diversify forest age classes within a 700-acre portion of the White River Wildlife Area by mowing up to 65 acres of aspen and alder habitat. This portion of the Wildlife Area is also being considered for designation as a Cooperative Ruffed Grouse and Woodcock Management Area. Implementation of this plan is expected to greatly increase breeding population densities of ruffed grouse and woodcock, while maintaining the property's significance as an important deer yard."
Though the Wisconsin Drummer Fund originated in 2010, RGS has been a dedicated supporter of forest habitat work in Wisconsin since 1985. Since that time, RGS has contributed nearly $1 million in support of active forest management efforts across Wisconsin. "Disturbance is a natural and critical component of healthy forests, ensuring that the diverse array of habitats required by forest wildlife are present," noted RGS/AWS Regional Biologist Scott Walter. "The Drummer Fund therefore allows our members to play a direct and meaningful role in forest wildlife conservation."

---
Established in 1961, The Ruffed Grouse Society/American Woodcock Society is North America's foremost conservation organization dedicated to preserving our sporting traditions by creating healthy forest habitat for ruffed grouse, American woodcock and other wildlife. RGS/AWS works with landowners and government agencies to develop critical habitat utilizing scientific management practices.
Information on RGS/AWS, the mission, management projects and membership can be found on the web at: www.ruffedgrousesociety.org.
Contact:

Scott Walter

RGS & AWS Regional Wildlife Biologist

(608) 538-3840
ScottW@RuffedGrouseSociety.org