02/03/15
« Back
RGS in the News
The Ruffed Grouse Society Is the Future of Conservation
From the Cincinnati Magazine January 8, 2015 online article, http://www.cincinnatimagazine.com/features/ruffed-grouse-society-future-conservation/, by Joanne Drilling.
If everything you know about guns, dogs, and wild animals comes from rolling through Bass Pro and loading up on Duck Dynasty swag, meet the small but hardy group of sportsmen in the Ruffed Grouse Society. With a deep respect for the birds they pursue and a vested interest in seeing the habitats they love stay healthy, they are the future of hunting. But when they're gone, who will follow the trail they've blazed?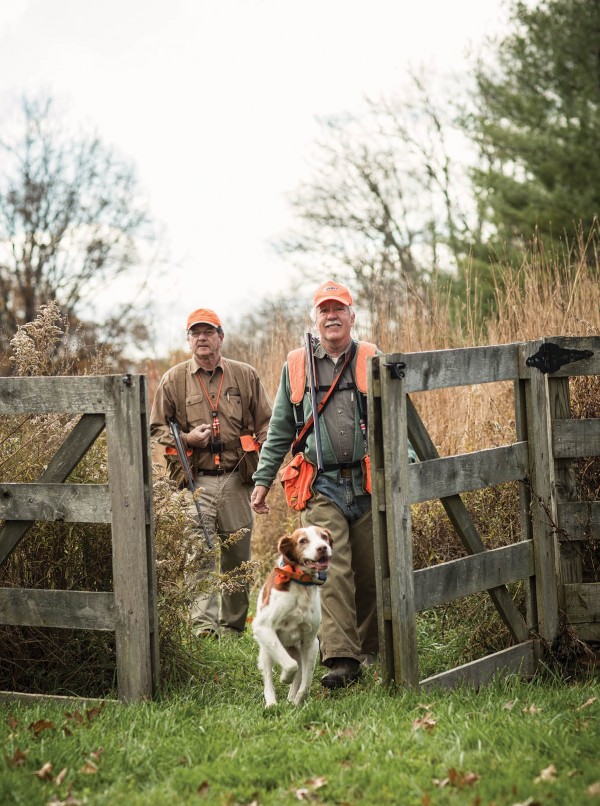 Ron Ellis (left), Mark Jones and their dog Hope return from a training exercise.


"Good, Daisy! Good! Good girl!" Ron Ellis exclaims in a throaty whisper. Behind his wire rim spectacles, his eyes glow with pleasure. "It's her first point," he declares proudly.
Daisy is a 10-month-old Brittany weighing in at just over 30 pounds, the granddaughter of a 32-time field trial champion from North Carolina named Nolan's Last Bullet. Bought from a breeder in Bowling Green, Kentucky, early in 2014, she has just pointed a farm-raised quail Ellis released in a fallow field thick with wild grass on the outskirts of Bethel this frosty November morning. He's training Daisy on a docile upland game bird now so that she will be ready when they encounter the more elusive ruffed grouse and American woodcock in the wild. Ellis's fascination with grouse is a lifelong passion; over the years it has served as something of a muse as he built a career as an outdoor writer, upland game-bird hunter, and committed conservationist. His reverence for the bird that he first began hunting at 14 is strong. Now 65, Ellis has hunted for most of his life and his relationship to the animals he hunts and the habitats they thrive in is fueled by an abiding respect. He cares about the grouse that he and Daisy are after but sometimes wonders if he and his dog are the last of a breed.
You may also listen to the follow-up radio interview on WVXU radio with Cincinnati Edition host Mark Heyne, Ms. Drilling and local chapter members Mark Jones, Ron Ellis and John Ruthven.