RGS & AWS are the nation's leading voice for forest wildlife.
DOWNLOAD AND REVIEW HERE
The Ruffed Grouse Society and American Woodcock Society significantly progressed in 2015, and we couldn't have done it without our dedicated sponsors, members, chapters and volunteers. Without our members, there is no organization! Thank you for all you have done to preserve our sporting traditions by creating healthy forests for ruffed grouse, American woodcock and other forest wildlife.
This annual report shows this progress in 2015 from habitat programs, membership, fundraising and communications. We are gaining essential momentum in all programs, and you can be sure that RGS and AWS will continue to be the voice for young forests in the future.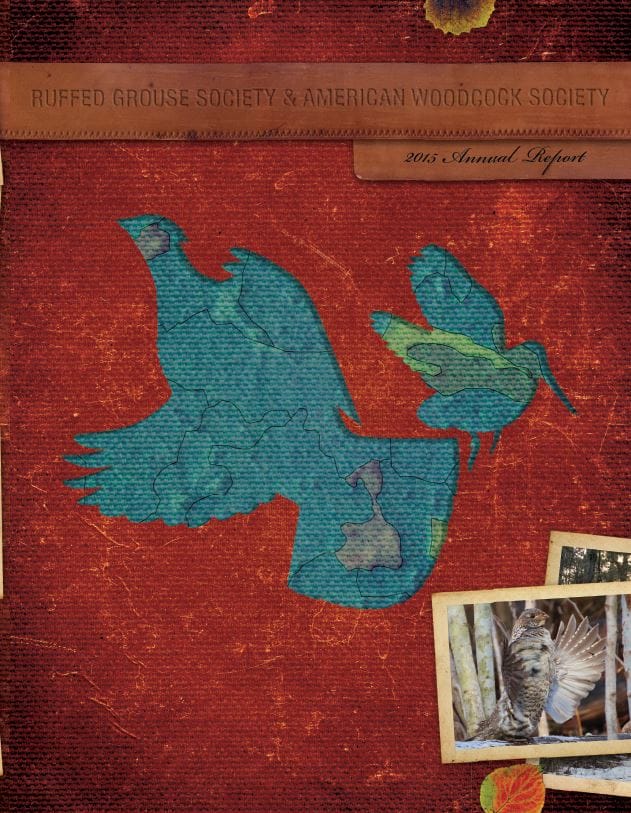 We made essential strides in enhancing the future of young forests this year by filing our Petition for Rulemaking, a formal legal challenge to force the United States Forest Service to maintain the creation of young forests at the forefront of their existing forest plans. We explored innovative funding sources for forest management projects through our new grant writing program, and our biology program continues to be the nationwide leader in advocacy and habitat creation for young forests from the Drummer Fund projects, advocacy through legislation and policy, habitat machine program and the forester and wildlife professional outreach program.
Membership gives us a larger voice to champion the cause for grouse and woodcock, and our membership was an effective voice in 2015. Our regional directors continue to enhance member engagement and relationships through our nationwide chapters, banquets and events. We are focused on being a top-notch communicator by engaging members and informing the public by consistently communicating the importance of our core tagline: healthy forests ~ abundant wildlife ~ sporting traditions, through the website, magazine, video and print media channels.
Enjoy the information provided, and thank you for all you do.